Porsche 911 Carrera RS 2.7 Touring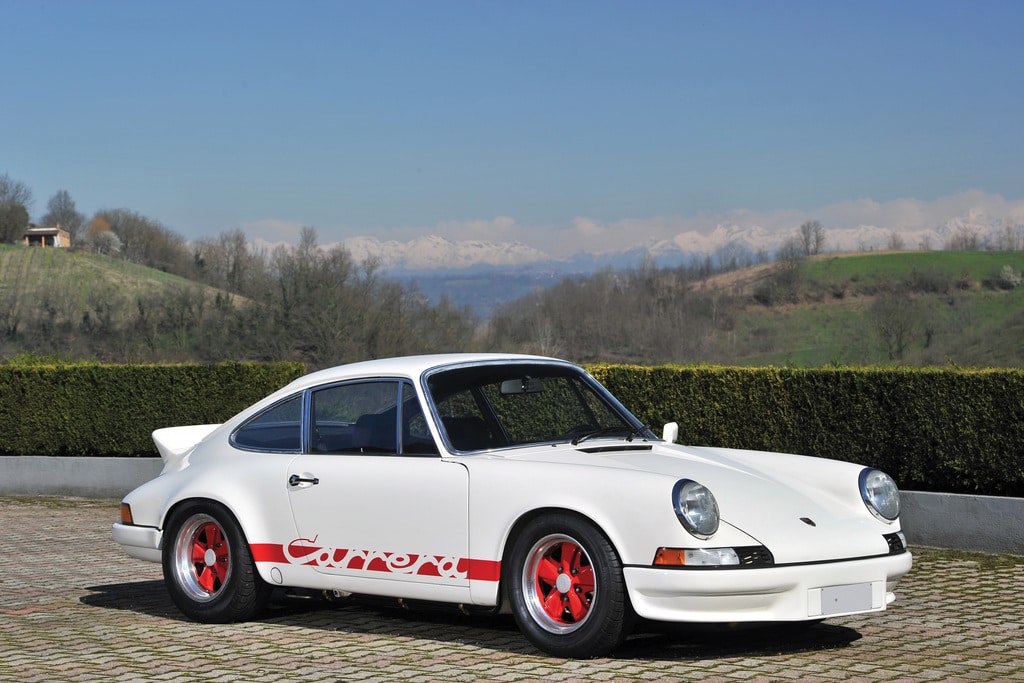 The Carrera RS Touring we are offering is truly a one-of-a-kind example. Out of a total production run of 1,580 units, just 117 cars were destined for RHD markets.
It was in 1972 that the FIA changed the goalposts by limiting engine displacement to 3.0 litres which would affect the Le Mans-winning Porsche 917 prototypes and as a result Porsche had to fall back on its bread-and-butter production cars to compete in the World Championship of Makes.
At the time the current models included the 2.4 litre 911 S but this was not deemed powerful enough to compete which resulted in Porsche upgrading to a 2.7 litre engine which had larger wheels and other modifications to match.
With a flared rear quarter and the ducktail style rear spoiler which had been developed in a wind-tunnel and after hours of track testing it was proved to greatly reduce the rear-end lift which was generated by the 911's slightly recessed rear window.
This new race-bred model was branded the Carrera RS which became homologated with the construction of 500 examples being built to meet the new rules.
The new RS 2.7 was first introduced in 1972 at the Paris Auto Salon and the first 500 cars quickly sold out which caused the sales department to approve a second production run of another group of 500 cars which again sold instantly.
This led to sales department pushing for a third run and the second and third production runs were delivered as 'Touring' versions, retaining the interior trim and comfort features of the 911 S.
Porsche 911 Carrera 2.7 RS Touring (M472)
Engine: 2,687 cc, air-cooled horizontally flat six
Production dates: November 1972 – July 1973
Transmission: Five-speed manual
Power: 210.0 bhp @ 6,300 rpm
Torque: 188.0 ft lbs @ 5,100 rpm
Weight: 975 kg (2149 lbs)
0-60 mph: 5.6 sec (est)
Top Speed: 152 mph (est)
1973 Porsche 911 Carrera RS 2.7 Touring Cymon Taylor ©2019 Courtesy of RM Sotheby's
The 2.7 RS Porsche achieved perfection. Beautifully balanced in terms of both driving dynamics and design. This remains the quintessential model of the original 911 and considered to be one of the best road-going Porsches ever built.
The RS 2.7 was a success due to its weight reduction and larger engine added with improved aerodynamics creating what was described and the most balanced perfect 911 built at the time.
The doors and lids were all manufactured with thinner-gauge steel and aluminium alloy helping to reduce the weight of the car. The front and rear fascias were built from fibreglass and even the window glass was made of a thinner and lighter glass.
Some late-series RS 2.7s that were built using standard body parts and glass, so when purchasing look for the early built models. Porsche changed the production process in the later stages which means early cars are better.
The 15-inch-diameter Fuchs alloy wheels looked great and this design has kept and used on future special limited models in 2014 for example with the likes of GB Edition proving that they got this right in 1973.
The new 2.7 litre engine was producing 210 bhp at 6,300 rpm using the Bosch mechanical fuel injection system and running with a five-speed manual transmission.
Disc brakes were standard on the RS models.
1973 Porsche 911 Carrera RS 2.7 Touring Ahmed Qadri ©2019 Courtesy of RM Auctions
Gooding & Company - 1973 Porsche 911 Carrera 2.7 RS Lightweight - May 2014
Sotherby's - 1973 Porsche 911 Carrera RS 2.7 Touring - August 2019